FinnAgora, the Green Policy Center and ConnectingFinland are organising a high-level seminar on Municipalities and Climate Change on Thursday 3 November at 14:00-17:00 hrs. The event aims to look at best practices from Finland and Hungary, and to discuss the most relevant innovations and solutions to energy efficiency and low carbon economy.
---
The seminar will be held at the Finnish Embassy (address: Kelenhegyi ut 16/A, 1118 Budapest) in collaboration with Green Policy Center (a Hungarian climate policy think tank) and ConnectingFinland (the Finnish business advisory platform in the CEE region).
Keynote speakers include:
Mr Oras Tynkkynen, Senior Adviser on Sustainability Solutions at the Finnish Innovation Fund (Sitra),
Dr Andrea Kondorosi, Head of Department for Electricity at the Hungarian Ministry of Technology and Industry,
Mrs Elina Wanne, Sustainable Development Manager at the City of Espoo (Finland),
Mr Vjacseszláv Kurenkov, Urban Development Expert at Kecskemét Városfejlesztó Ltd.
In addition, we will hear a number of presentations from the private sector.
Registrations to the seminar can be made through the following link:
Due to the limited capacity of the venue, the event will be also streamed live and recorded. The link to the live event will be published on FinnAgora's website a few days before the seminar takes place.
---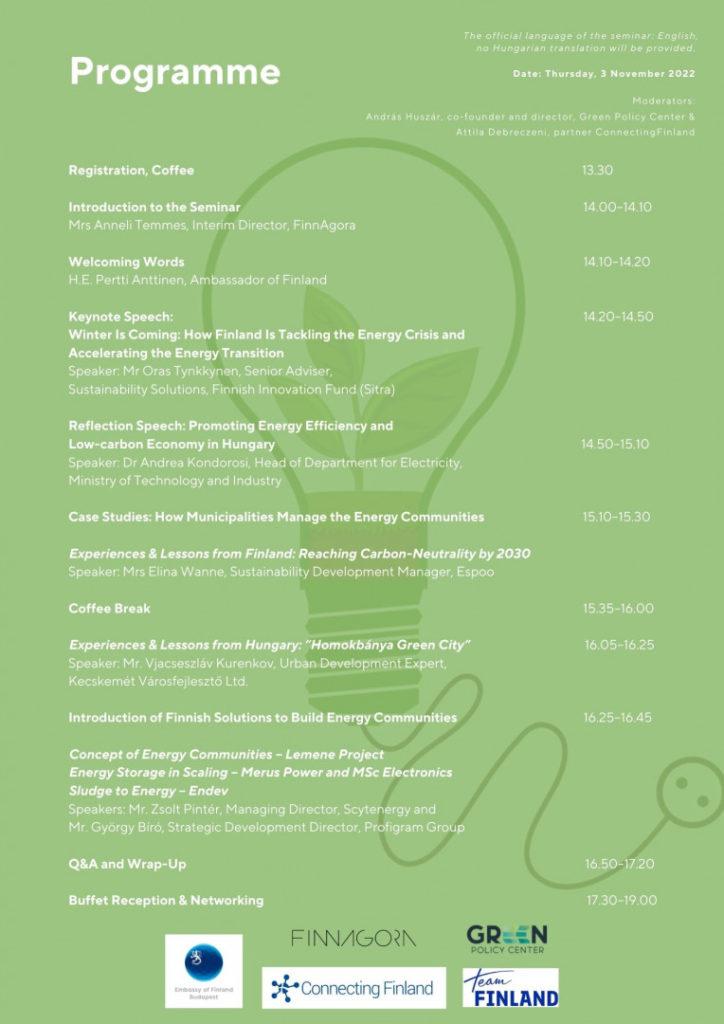 ---