The MIRROR project aims to develop evidence-based and impact-assessed policy proposals in the field of climate policy in the Member States, and to present them to government decision-makers and the society. The project currently involves 13 EU Member States. As of 1 April 2022, the Green Policy Center has taken over another national actor as a Hungarian participant, supported by the Regional Energy Economics Research Centre (REKK).
---
As of April 1, 2022, the Green Policy Center replaced another domestic actor as the Hungarian participant of the MIRROR project. The aim of this project, which is currently taking place in 13 EU member states, is to develop policy proposals based on facts and impact assessment in the field of climate policy, per member state, and to present them to government decision-makers and society. The domestic implementation is carried out with the professional support of the Regional Energy Economy Research Center (REKK) on behalf of the European Climate Foundation.
The most important tool is the open-access Pathways Explorer (PE) model developed by Climact, a climate protection consulting company based in Belgium and founded in 2007, which is being further refined as part of the current project based on historical data and government strategies of individual member states. After spending the last few months with this data verification and model calibration task, we are proud to announce that the PE model is now ready for use in Hungary. Of course, the model is under continuous development by Climact, which the Green Policy Center will continue to support on the domestic side, so in the future more and more new functions will be added.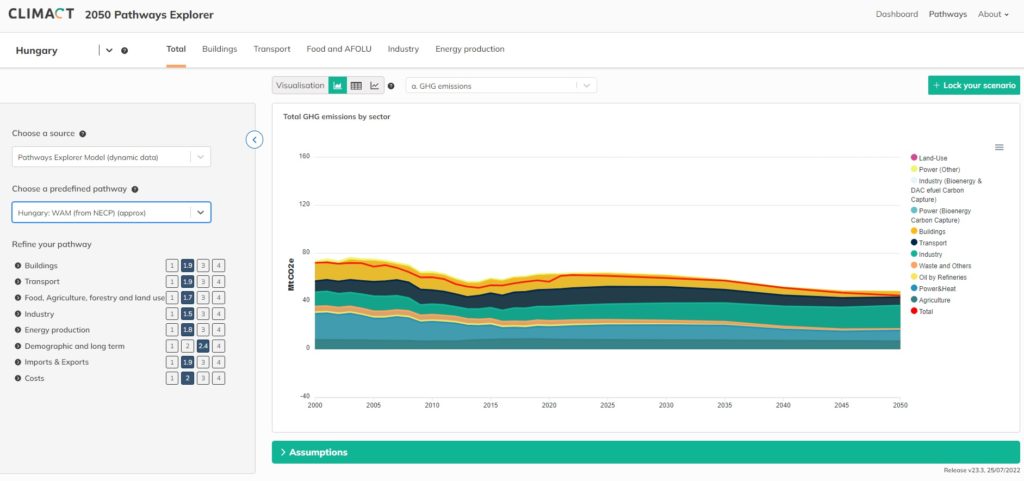 We strongly recommend the use of PE to the domestic public administration, research institutes and think tanks, and green civil organizations for analysis and preparation of studies. With a little practice, it is possible to quickly give good approximations for the different scenarios of the climate transition.
Climact can provide more information about the model, available at the project's thematic e-mail address or website. The Green Policy Center is happy to provide you with data and scenarios regarding Hungary at the following address:
---