Green Policy Center
Central European Climate & Sustainability Think Tank. Analyses, Consulting, Green Solutions.
The Green Policy Center is a Hungarian climate policy think tank
that was established to address climate change
and other urgent green policy issues in a balanced,
honest and non-partisan manner, based on
scientifically sound information.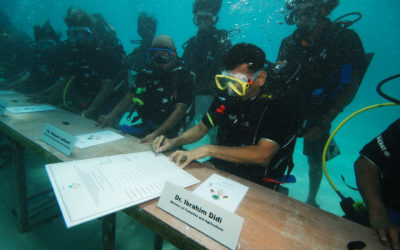 This week, the 27th annual climate conference of the United Nations the COP27 begins under the presidency of Egypt. The "African COP", as the developing countries refer to the conference, faces serious challenges: it must simultaneously increase the ambition to reduce emissions in order to maintain the climate goals and preserve a ray of hope for small island states of survival, as well as meet the developing countries' huge financial expectations. Will the Egyptian presidency manage to reach agreements acceptable to all parties and what role will the European Union play in all of this?
Although we are currently mostly occupied with the energy price crisis, we must not forget the challenges caused by climate change. That is why it is worth paying attention to Sharm el-Sheikh in Egypt, where delegates from nearly 200 UN countries are expected to discuss the most burning issues of international climate policy in the next two weeks. And there are plenty of burning issues; this year we have all felt the negative effects of climate change on our own skins, just think of the summer droughts and forest fires, or the floods in Pakistan that claimed 1,500 lives and caused 30 billion dollars in damages.
One of the most controversial topics in the coming weeks will be related to these events; the so-called Loss and Damage negotiations. According to the IPCC, the climate change scientific advisory body of the UN, climate change threatens the lives and livelihoods of 3.3-3.6 billion people in the future. Climate change strongly affects the poorest strata of the population, as they are much less able to adapt to its negative effects; developing countries are therefore demanding a new financial fund to compensate for the damage caused by climate change. Since developing countries generally emit less greenhouse gases and they are still affected by climate change, they are calling upon developed countries to finance this new fund due to climate justice and the "historical responsibility" of developed countries. However, opinions differ as to what amount would be sufficient; calculations are about expected damage between 1-1.8 trillion and 5.6 trillion dollars by 2050.
The United States, as well as the European Union and its member states, have so far opposed the establishment of a separate financial fund, fearing that, if it is created, there will be no limit to the financial claims of developing countries. During the negotiations, the EU has also underlined that there are already an existing fora for the topic under the UN umbrella, and that developed countries have undertook to mobilize 100 billion dollars yearly to support the climate protection efforts of developing countries. Since we have not yet succeeded in achieving this goal, the developing countries are distrustful of the developed countries for the time being.
In order to rebuild trust, several European member states have already offered resources to deal with Loss and Damage, and developed countries have pledged to double the resources offered for adaptation action. Furthermore, developed countries are also developing a delivery plan on reaching the 100 billion dollar per year goal, and started negotiations to define the new long-term climate financing goal as well. However, according to the position of the EU and its member states, public resources alone will not be sufficient to curb climate change, so we recommend starting negotiations on how to bring global financial processes in line with the 2050 climate neutrality goals. It is still an open question whether this topic will be on the agenda or whether developing countries will only see it as a distraction from the immediate mobilization of finance.
The chance of survival of small island states is an open question at the moment as well. If we cannot keep the rise of the global average temperature below 1.5°C, several of these countries may drown in the sea, so it is really a matter of life and death for them to reduce emissions as ambitiously as possible. Last week, the UN environment and climate change organizations both published their assessments on how we are doing in the fight against climate change. While we could be optimistic after last year's climate conference because of the new commitments announced there. according to these latest analyses, we are no longer doing so well in terms of implementation. Among the major emitters, only the EU and the USA have reduced their emissions, while the global GHG emissions have reached new all-time record high levels. Another cause for concern is the fact that even if the current commitments are fully fulfilled, we can still expect a warming of around 2.8°C by the end of our century – not aligned with the 1,5°C pathway recommended by science and necessary for the survival of small island states.
For the EU and its member states, the progress under the mitigation work program up to 2030 during COP27 is therefore of outstanding importance, so that the countries of the world can formulate more ambitious climate policy steps as soon as possible. This is not only important for the survival of small island states, but if we can keep climate change under control, its negative effects will cause less loss and damage, and the we need to mobilize less resources to compensate for those. As we can see, everything is connected with everything, which is why the Egyptian COP presidency will be in a difficult situation in the next two weeks. We can hope for all of our sake that they manage to deliver on the expectations of all sides, both on ambition and finance.
"What kind of world do we want to leave to those who come after us, to children who are now growing up? This question not only concerns the environment in isolation; the issue cannot be approached piecemeal. (…) Why are we here? What is the goal of our work and all our efforts? What need does the earth have of us? (…) Unless we struggle with these deeper issues" – says the Pope, "I do not believe that our concern for ecology will produce significant results." Laudato Si' Encyclical Letter
Central European Climate & Sustainability Think Tank
Analyses, Consulting, Green Solutions

Consulting
We help you make well-founded sustainability and climate policy decisions.

Analyses, research
Sustainability and climate policy analyses and research to lay the foundations for climate-neutral social and economic operation.

References
Get to know our work, projects and other previous activities so far.
Contact us!
If you have any questions about our research and consulting services, please, feel free to contact us!